The Nightingale of The East
Noor Jehan (born Allah Rakhi Wasai) was a famous Pakistani singer and actress whose career spanned more than six decades, during which she recorded over 10,000 songs. This image shows Madam Noor Jehan in one of her most iconic photos. Holding a Sitar, looking off camera and striking a pose, we see her at her most comfortable: in front of a camera.
She could sing in several languages including Urdu, Hindi, Punjabi and Sindhi, making her one of the most influential singers of all time in South Asia.
Noor Jehan sang 12 war songs which were recorded and broadcasted by Radio Pakistan during the 1965 war. She was given the title of Malika-e-Tarannum (the Queen of Melody) in Pakistan for her services during the war, and was popularly known as Madam by her adoring fans. Being surrounded by multitudes of people did not faze her and she was accustomed to being admired.
Here she is seen with her son-in-law, Haroon Rashid, and relatives from his bridal party.
Her persona and glamour in the East can easily be compared to that of Marilyn Monroe in the West.
In this image, Madam Noor Jehan poses in a white sari.
Early life
Noor Jehan was born on September 21, 1925 in Kasur, Punjab. One of eleven children, she came from a Muslim family with a rich musical tradition. She began singing at the age of 5 and received early training in classical singing under Ustad Bade Ghulam Ali Khan, a famous Hindustani vocalist.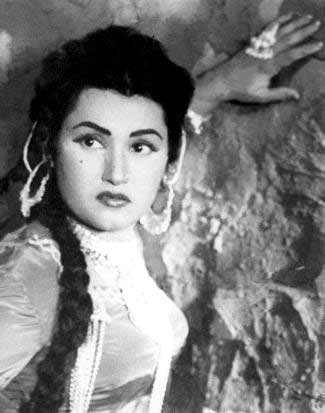 As a young girl, Noor Jehan appeared in the K.D. Mehra directed Punjabi movie Pind di Kuri (1935) and next acted in a film called Missar Ka Sitara (1936). Noor Jehan also played the child role of Heer in the film Heer-Sayyal (1937).
In 1938 Noor Jehan moved to Lahore. Her first major film role was opposite the Indian actor Pran in Khandaan (1942). The film became a major hit and she moved to Mumbai with its director, Syed Shaukat Hussain Rizvi, who she later married.
After the Partition in 1947, Jehan decided to move to Pakistan and settled in Karachi.
This picture shows a young Noor Jehan during the making of her 1947 film, Jugnu. Starring opposite veteran actor, Dilip Kumar, Noor Jehan played the titular leading lady in the Indian film.
She is seen here dressed in a checked coat, a silk headscarf and adorning her forehead is a traditional bindi. A little girl is also seen with her, who could possibly be one of her daughters who was visiting her and keeping her company on the film set.
It was shortly after making this film that Noor Jehan moved to Pakistan.
Her first big break in Pakistan was in 1951 with the film, Chanwey, opposite Santosh Kumar.
This picture, set against the scenic background of the Karachi Sea, was taken in the early 50s. Keeping her social calendar filled, Madam Noor Jehan enjoyed the company of family and friends.
Captured in the early 50s, this picture characterizes the type of woman Madam Noor Jehan was and the influence her work had on the public. She appears to be at ease as she rests on a sofa with some sort of cast on her hand; perhaps she was injured or possibly she was wearing a glove of some kind to help her have better control of her mike during her performances.
Her comfortable sitting position is juxtaposed against a background of mayhem. As her fans knew, Noor Jehan was the center of attention in all gatherings, and, here, she certainly was. The body-language of the man in front of reveals all; his bent posture and clasped hands imply how he was willing to make sure that the Madam was comfortable and had everything she needed.
Career and Achievements
Noor Jehan established herself as a top actress with films like Dopatta (1952), Intezar (1956) and Koel (1959). She made over 40 films, the last of which was Mirza Ghalib (1961). After this she pursed a successful career as a playback singer.
She holds the record for having given voice to the largest number of film songs in the history of Pakistani cinema.
The original Prima Donna of Pakistan, throughout her career Madam Noor Jehan was known for her flamboyant and theatrical personality. This iconic picture highlights her glamorous style.
In 1957, she was the recipient of the President's Award for Pride of Performance for her contribution towards acting and singing.
Here you can see Madam Noor Jehan with the famous actor Dilip Kumar. Both of them are smiling widely: a sign of their friendship and appreciation for each other.
They co-starred together in the 1947 film Jugnu.
Not only a prolific performer in front of the screen, Jehan also became know as Pakistan's first female director when she directed Chanweyin 1951 along with her husband.
During the 1965 war, Noor Jehan contributed towards boosting the morale of Pakistani soldiers and citizens with a collection of patriotic anthems and uplifting tunes. She sang 12 war songs that were recorded and broadcasted by Radio Pakistan.
Due to this she received much respect from the Armed Forces and in 1966 was given the Tamgha-e-Imtiaz in recognition of the legendary patriotic songs—one of the highest Pakistani civilian awards.
These songs not only motivated the Armed Forces of Pakistan but also enabled Pakistani civilians to amass courage. Even today when these songs are played, they rekindle the same spirit of 1965.
Taken around the 90s, this image shows Madam Noor Jehan entertaining General Pervaiz Musharraf.
Family Life
Madam Noor Jehan was married twice, her first husband was Ejaz Durrani and her second husband was Shaukat Hussain Rizvi. She had six children in total from both marriages: Zil-e-Huma, Hina Durrani, Mina Hasan, Nazia Ejaz Khan, Akbar Hussain Rizvi, and Asghar Hussain Rizvi. Despite her busy schedules, fame and stardom, Madam Noor Jehan maintained a balance between her home life and her career.
Caught in an unguarded moment, Madam Noor Jehan is seen here with her first husband Shaukat Hussain Rizvi and two little girls. Mr. Rizvi is seen here looking totally enamored by Madam, having eyes only for her.
Zil-e-Huma dressed as a bride, Madam's first husband Shaukat Hussain Rizvi, Haroon Rasheed Butt and Madam Noor Jehan.
Dressed to the nines, Madam Noor Jehan exhibited her extravagant personality through her fashion sense.
Caught in the act of fixing her hair, this picture is from the Murree Convent days, a girls school in Punjab, Pakistan where her daughters were studying.
This candid, family photograph is a true representation of Noor Jehan's top priority: her family. Madam's affection and need to protect her family, especially her daughters, is clearly evident through their smiles and laughter.
Noor Jehan always put her family life on a pedestal. In this photograph, Madam is elated as she claps and cheers on her daughter who is cutting her birthday cake.
The man in this picture, assisting with the cutting of the cake, is her second husband, Ejaz Durrani.
From the extreme right the order of the girls is: Hina Durrani, Nazia Durrani and Zil-e Huma (her daughter holding Noor Jehan's grandson Muhammad Ali Butt). Shazia Sardar is seen at the back.
Seen here at a wedding, we get a glimpse into the side of Madam Noor Jehan's life as a family woman.
We see people crowd around her as she tries to get a picture taken with her family, highlighting the struggle she must have faced in maintaining a peaceful family existence amidst a life of stardom.
This picture shows a touching family moment. Surrounded by loved ones at what seems to be the wedding of her daughter to Haroon Rasheed, we see the life that Madam Noor Jehan led behind the cameras and the silver screens.
Noor Jehan dressed in a striking saree and enjoying her dinner at wedding reception. To her left is Haroon Rashid.
Madam Noor Jehan is pictured here with her second husband's cousin and Nazia Durrani, her daughter from her second husband, Ejaz Durrani.
Noor Jehan, adorned in a flamboyant saree lends an ear to her daughter Zil-e-Huma, who seems to be sharing her thoughts.
Madam Noor Jehan with her daughters and grandchildren.
Never missing out on an opportunity to flaunt her vibrant personality, Noor Jehan smiles for the camera. Her daughter Zil-e-Huma and her grandchildren Nazia Durrani, Muhammad Ali and Shazia Sardar also pose for the same picture.
Noor Jehan in a peaceful and touching moment with her granddaughter, Nazia Durrani.
Noor Jehan passed away on December 23, 2000, but, as Malak-e-Taranum, will always be remembered for her larger than life personality, and for bringing people together through her music.
Leave a Comment